Business and Strategy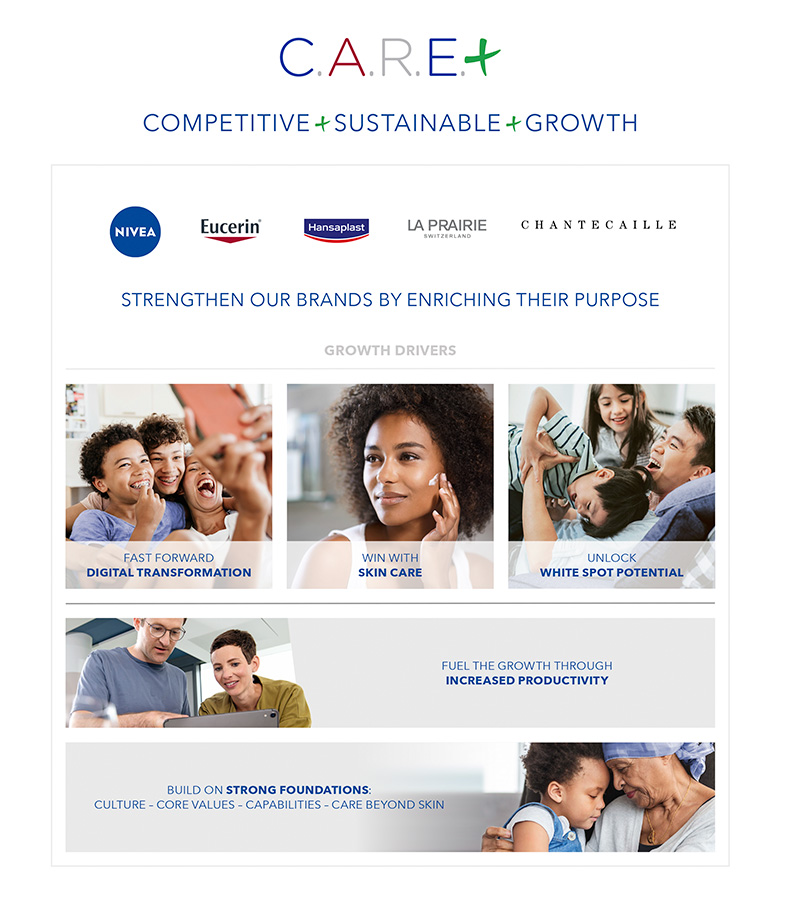 Marked sections contain information that is part of our Non-financial Statement
With a strong, global brand portfolio, Beiersdorf has developed into one of the world's leading companies in the consumer goods industry over the past 140 years – with over 170 international subsidiaries and more than 20,000 employees worldwide. Our business is divided into two separate, independently operating business segments. In both segments, we hold market-leading positions and are confident that we can further maintain and expand our advantage by bringing key innovations with genuine added value to the market.
In the Consumer Business Segment, our focus is on skin and body care. Our strong portfolio comprises brands such as NIVEA, Eucerin, La Prairie, and Hansaplast, which are trusted by people around the world.
In the tesa Business Segment, we concentrate on developing innovative adhesive tapes and self-adhesive solutions for industry, craft businesses, and end consumers. Since 2001, tesa has been managed as an independent subgroup.
Consumer
Consumer
Our strategy
The Beiersdorf name has stood for skin care since 1882. This is our core competency – and we want to deliver added value for our consumers in this area and ensure that people all around the world feel good in their skin.
In 2019, we formulated our C.A.R.E.+ business strategy. This describes our strategic priorities and is the means by which we want to secure our competitive, sustainable growth. The strategy focuses on the following areas:
Strengthen our brands by enriching their purpose
Fast forward digital transformation
Win with skin care
Unlock white spot potential
Fuel the growth through increased productivity
Build on strong foundations: Culture – Core Values – Capabilities – Care Beyond Skin
We achieved major steps in implementing our C.A.R.E.+ strategy in the reporting year. Below, we briefly introduce the most important progress.
Strengthen our brands with purpose
Brand purpose has become increasingly important in recent years, as today's consumers are interested in more than just product performance. They want to know what a brand stands for and what it is committed to. Our iconic NIVEA, Eucerin, and Hansaplast brands have already been living and communicating their brand purposes for several years now. NIVEA stands for "Care for Human Touch to Inspire Togetherness." With the purpose "WE BELIEVE IN THE LIFE-CHANGING POWER OF DERMATOLOGICAL SKINCARE,"we express that Eucerin is committed to sustainably improving people's quality of life – with dermocosmetic solutions for very individual skin problems.
Our Hansaplast brand, which celebrated its 100th anniversary in 2022, promises consumers, "We've got you covered. For a life uninterrupted."
Fast forward digital transformation
Digitalization in our company and business plays a decisive role in tapping new growth potential. That is why we have long been systematically driving digitalization as part of our C.A.R.E.+ strategy. Our e-commerce business is constantly growing with every year. We also want to engage more strategically with our consumers and fulfill their individual wishes. This means being with them in the digital spaces they already use and sending the right message at the right time. We again invested in digital approaches on a large scale in the reporting year, particularly on our social media channels, and stepped up personalized communication with consumers using precision marketing, including through partnerships with influencers and providers of digital technologies such as MikMak, Google, and Amazon. This way, we want to be close to our target groups, build trust, and improve the effectiveness of our marketing activities.
In addition to our marketing activities and investments in the e-commerce business, we implemented a series of initiatives in 2022 to further accelerate the digital transformation within Beiersdorf. These also form part of our "Digital Fast Forward" strategic program – our vision for 2025 to digitalize our business and improve our consumers' lives in a lasting way. Examples of these initiatives include our use of artificial intelligence (AI), for example in the rapid development of effective, sustainable, and safe formulas, and our large-scale digital skin research study SKINLY. These topics are presented in more detail in the "Research and Development" section. Digitalization is increasingly finding its way into other areas, too. Examples are provided in the "People at Beiersdorf" section under "Digital transformation." To accelerate the digital transformation as a whole, we are also committed to investing in our employees' digital skills. We offer employees a range of ways to keep pace with the rapid changes in technology.
Win with skin care
Our strategic focus "Win with skin care" is another essential element of our success. We want to bring key innovations with genuine added value to the market by developing fewer but bigger and better innovations and implementing global campaigns. This means that, in future, innovations and campaigns will generally take place in all markets relevant for us. In the reporting year, we also began taking NIVEA, our world-leading skin care brand, to the next level. We aim to make NIVEA an even more global, digital, and sustainable brand that excites our consumers all around the world. A good example of the NIVEA potential is the LUMINOUS 630® Anti-Dark Spot face care range introduced in 2020, which has since become a global success story and growth driver.
Further progress on our "Win with skin care" strategic objective in the reporting year came from our sustainability commitment. By enhancing existing, particularly popular products, we have made the skin care routines of millions of people around the world more sustainable and achieved a contribution to climate protection. For example, we have improved the composition of our classic NIVEA Soft to reduce the formula-based carbon footprint by up to 40% (compared to the previous formula). Additionally, we bring the product to market with a vegan (without animal derived ingredients), 98% biodegradable (according to OECD or equivalent methods) formula. In addition, we balanced the remaining emissions through certified climate protection projects, thereby "climate-neutralizing"1 the product. We have also achieved an improved environmental performance by relaunching the packaging for NIVEA shower care products. The range, which has an improved formula since 2021, is now available in a lightweight bottle made from at least 96% recycled plastic and 20% less material than before. This has enabled a 32% reduction in packaging-related CO2 emissions. Beiersdorf is playing a leading role in the sector in terms of its target setting, performance, and transparency on climate change, forests, and water security. At the end of the reporting year, the non-profit organization Carbon Disclosure Project (CDP) awarded Beiersdorf a top score and, as one of only 13 companies worldwide, a place on its "Triple-A list."
We want to win with skin care while also unlocking growth potential. The acquisition of Chantecaille Beaute Inc. in February 2022 has brought us a step closer to this goal. We see Chantecaille as an ideal addition to Beiersdorf's premium skin care range. Whereas La Prairie is positioned as a luxury brand, the globally represented Chantecaille brand serves consumers looking for prestige cosmetics and is therefore aimed at a wider target group.
With the acquisition of S-Biomedic, a life sciences company, which is active in the field of skin microbiome research, Beiersdorf also strengthened its expertise in the field of acne treatment in the reporting year. Further information can be found in the chapter "Research and Development."
Unlock white spot potential
Another element of Beiersdorf's C.A.R.E.+ strategy is tapping into new potential for growth. We are concentrating on "white spots" – markets and business areas where we are not yet present or would like to further expand our presence. In 2022, for example, we entered the world's largest sun care market, the United States, with Eucerin Sun products. With our Chantecaille brand, we want to further accelerate our growth in the prestige cosmetics segment on the North American and Asian markets – and here especially in China.
With the recent launch of La Prairie on the Chinese online platform JD.com, we were also able to tap further growth potential for our e-commerce business in this strategically important market. For several years now, we have been operating with our core brands on China's largest cross-border platform TMall, from Alibaba. Both JD.com and TMall offer us great potential for substantial growth in China.
Both our global production and logistics network and our innovation network form an important basis for future growth potential. The ultra-modern innovation center in New Jersey, United States, which opened in the reporting year, is our first global center of excellence for sun care products outside Hamburg. By developing Eucerin Sun products specially tailored to US regulations and sharpening the Coppertone range, the innovation center will contribute to the growth of our business in this region. We anticipate similar growth impetus in China from the innovation center we opened in Shanghai in 2020.
Fuel the growth through increased productivity
We firmly believe that investment is a prerequisite for growth and innovation. At the same time, we strive to constantly improve our Group's efficiency through strict cost discipline and a focused, lean organization. This is essential to fueling growth through increased productivity, one of the key pillars of our C.A.R.E.+ strategy.
Various measures taken in the reporting year helped us further increase the efficiency, agility, and resilience of our supply chain, allowing us to respond even better to the changing circumstances. At global level, we invested, for example, in expanding our production plants in Poland and Mexico. For us, new production lines and modern technology are the basis for future growth. We are investing almost €200 million to expand our production site in Poland. After completion of the expansion in Mexico in 2024, Beiersdorf Manufacturing Mexico (BMM) will be one of Beiersdorf's three largest production sites.
We have invested heavily in Leipzig, too, in order to create a future-proof, ultra-modern supply chain infrastructure for Central Europe. Almost €300 million are going into the construction of our new production plant, which is due to begin operation in 2023. Up to 450 million cosmetics products will roll off the production line at the 32,000 m2 plant every year, including deodorants and shaving foams for the entire European market and for export further afield. There will be scope to expand capacity further in future depending on market and business development. In close proximity to the new plant, a state-of-the-art hub for the European supply chain network is being created by 2027 with an investment volume of over €200 million. We are striving for the highest sustainability standards in all production buildings. The aim for the new production plants and extensions is to achieve gold certification under the widely recognized rating system for sustainable buildings, LEED (Leadership in Energy and Environmental Design).
We also achieved an important climate protection milestone in January 2022 with our Berlin plant, Beiersdorf Manufacturing Berlin (BMB). Since the start of the reporting year, this has been the first plant in Beiersdorf's production network to achieve virtually climate-neutral operation in terms of Scope 1 and 2 emissions. To enable this, it has switched from natural gas, a fossil fuel, to biomethane. Only parts of the vehicle fleet and the emergency power supply (1%) continue to run on fossil fuels. These residual emissions are offset using high-quality CO2 certificates.
Building on our strong foundations: Culture – Core Values – Capabilities – Care Beyond Skin2
Our employees are our most important capital. They make a decisive contribution to our commercial success and noticeably shape our unique corporate culture with its qualities such as openness, trust, honesty, and respect. This culture is underpinned by our Core Values of Care, Simplicity, Courage, and Trust. These values ensure that we act as a team and support each other – always with the aim of fulfilling our consumers' needs and wishes to the best of our ability and meeting our responsibility toward society and the environment.
Our purpose Care Beyond Skin is an expression of what Beiersdorf stands for and what defines us as a company – because our care and concern go far beyond our core competence, skin. We want to make a positive contribution to our society and our planet. By acting in a way that recognizes our social responsibility, for example with emergency aid in crisis situations or through the diverse initiatives of our sustainability agenda, we aim to bring this purpose to life. Detailed information about our sustainability agenda can be found in the Non-financial Statement.
We initiated a change in our corporate culture in the reporting year with the "Behavior Activation Journey," in order to integrate behaviors into our day-to-day work that play an important role in our success. Under the banner "Speak Up," we at Beiersdorf want to promote a culture in which employees have the courage to question things and to form and openly share their own opinions. "Prioritization" is about setting the right priorities that will better enable us to implement fewer yet bigger and better innovations in the future. "Mental health" is also one of the main drivers behind this focal point, as setting the right priorities is intended to reduce employees' workload and encourage them to better set and respect their personal boundaries. More details on this can be found in the "People at Beiersdorf" chapter under "Leadership."
Beiersdorf has also been driving the transformation to the new world of work for several years now. This, too, is part of a comprehensive cultural shift designed to make both the company and its employees fit for the challenges of the future. From hybrid or flexible working to modern workplaces, Beiersdorf is committed to actively shaping the future world of work. And we are bringing our employees with us on this journey. We invest continuously in training our workforce in the firm belief that the skills and expertise of our employees are essential to our sustainable growth and long-term success. We are becoming a learning organization with our global learning strategy, which encourages self-directed, lifelong learning by all, preparing everyone for the working world of the future. Further information can be found in the "People at Beiersdorf" chapter.
tesa
tesa
tesa SE (referred to in the following as "tesa") is one of the world's leading manufacturers of self-adhesive products and system solutions for industrial customers and consumers. tesa SE, a 100% owned subsidiary of Beiersdorf Aktiengesellschaft, is managed as an independent subgroup that is the direct or indirect parent company of 61 tesa affiliates (previous year: 61), employs 4,982 people and operates in more than 100 countries.
In fiscal year 2022, tesa sold tesa Labtec GmbH, Germany. In addition, tesa ME FZE, Dubai, has been launched in the United Arab Emirates. The number of affiliates thus remains unchanged.
tesa operates worldwide, with its main focus on Europe, followed by the business regions of Africa/Asia/Australia and the Americas. In addition to the German locations, the affiliates in China, the United States, Italy, and Singapore are among tesa's largest and most strategically important single companies. tesa has production facilities in Europe (Germany and Italy), the Americas (USA), and Asia (China). A further site is being built in Vietnam. The company headquarters, which include the research and technology center, are located in Norderstedt, near Hamburg.
Industry
In the Industry division, tesa supplies specialized system solutions directly to industrial customers, especially in the automotive, electronics, printing and paper, and building and construction industries. The strategic focus is primarily on developing and expanding profitable business lines in technologically advanced fields of application. tesa's system solutions are used to optimize and enhance the efficiency of production processes, as fastening solutions in construction-related applications – often offering features beyond just bonding – and as customized protection and packaging systems.
Along with direct business, the technical retail trade is part of the Industry division. Through retail partners, tesa offers a wide range of products for diverse applications in various industrial sectors, including product ranges for assembly and repair, tapes to secure items during transportation, and adhesive solutions for the packaging industry.
Consumer
The Consumer division encompasses those markets in which tesa supplies end consumers with market-driven products via retail partners or retail-like channels. This includes product ranges aimed at private consumers and craftspeople. tesa also uses online business to offer products for sale directly to end customers.
The Consumer business is focused on Europe and Latin America. It sells both long-established and innovative product solutions intended for various applications, including for daily use in offices, the home, and in crafts. Under the tesa® umbrella brand, end consumers find a broad assortment of more than 300 innovative products in DIY stores and superstores as well as in paper goods and stationery shops and online. tesa provides tailor-made ranges for professional craftspeople and designs its marketing concepts for the specific target groups.
Management and Control
The Executive Board manages the company and is dedicated to sustainably increasing its value. In addition to the functional areas of responsibility within the Executive Board, there are regional areas of responsibility. The Executive Board is closely involved in the company's operational business in particular through the allocation of responsibilities for the regions and markets. A breakdown of the Executive Board's areas of responsibility can be found in the chapter "Beiersdorf AG Boards" of the Notes to the Consolidated Financial Statements. The tesa Business Segment is managed as an independent subgroup.
Information on the remuneration of the Executive and Supervisory Boards as well as on incentive and bonus systems is provided in the Remuneration Report, which can be obtained in the section "Additional information." The Combined Management Report includes the Corporate Governance Statement of Beiersdorf AG and the Group in accordance with §§ 289f and 315d Handelsgesetzbuch (German Commercial Code, HGB), which is also made publicly available on the company's website at www.beiersdorf.com/corporate-governance-statement.
Value Management and Performance Management System
The goal of Beiersdorf's business activities is to sustainably increase the company's market share by achieving qualitative growth and, at the same time, to expand its earnings base. The long-term key performance indicators – organic sales growth3 in conjunction with market share development, EBIT, and the EBIT margin before special factors (the ratio of EBIT to sales) – are derived from this goal. The aim is to generate internationally competitive returns through continuous investment in growth opportunities, systematic cost management, and the highly efficient use of resources. The development of the relevant key perfomance indicators can be found in the section "Results of Operations."
The company has created an efficient management system in order to meet these strategic goals. Corporate management derives business performance targets for the individual units in the Group for the coming year from the Group's strategic business goals. This planning covers all segments and affiliates. Formal adoption by the Executive Board and Supervisory Board of the Group's planning for the following year is generally toward the end of the year. In specific cases the planning is not finalized until the beginning of the fiscal year in view of current developments.
Actual key performance indicators are compared with target values and with the current forecast for the year as a whole at regular intervals during the fiscal year. These comparisons are used to manage the business in line with the objectives.
The tesa Business Segment forms a separate, independent unit within the Group. It is also managed on the basis of sales growth, the operating result (EBIT), and the EBIT margin.
Marked sections contain information that is part of our Non-financial Statement
1 More information on www.nivea.com/climate.
2 This section of the Combined Management Report is not subject to audit requirements.
3 For the definition of organic sales growth refer to Significant Accounting Policies ("Notes to the Segment Reporting").